5 Easy Blues Solos – Ultimate Blues Soloing Perfection And No Speedy Fingers Required
Imagine being able to download some of the best licks, tricks, and phrases of legendary blues guitarists like BB King, Freddie King, Albert King, Stevie Ray Vaughan, Eric Clapton, and more… without having to spend years in the woodshed just to build up the chops.
5 Easy Blues Solos contains 5 plug-and-play blues solos in the most common styles and keys of blues jams around the world and in your town. And no solo contains anything faster than an 1/8th note so any intermediate blues player can be jamming along and sounding great almost immediately.
5 Blues Solos You Can Learn Today And Use Tonight…
Learning to make up great guitar solos is a lot like a baby learning to talk…
You start by making simple sounds – the blues scale, the pentatonic major and pentatonic minor scales – those are like the babbling a 1 year old does from the back seat of the car.
Then the baby learns words just like you learn a lick. When Junior says "Daddy" think of that like you playing the beginning lick in BB King's "Thrill Is Gone."
And when the baby needs to learn more words… and how to put them together into more and more phrases and ideas to get his point across… that's where Mom and Dad come in…
You see, Junior doesn't learn by reading a book, he learns by copying what those around him say. They are the experts and he just does his best to mimic them.
Now if you've ever felt like you know some scale patterns and you know a few licks, but you're stuck actually making a solo that sounds good, works, and leaves you feeling like you really nailed that solo break… well you haven't been copying the experts (or you haven't been copying the right experts.)
Here's What You'll Get With 5 Easy Blues Solos…
5 "Textbook" blues solos in the styles of BB King, Stevie Ray Vaughan, Albert King, Freddie King, and more.
Full speed and slow speed versions of each solo so you can practice slowly until you get it down… then go full speed when it's time to let it rip.
Full length jam tracks to use for your own solos. As you get the 5 solos down you'll see where you can use them over other keys, feels, and tempos. Using the jam tracks to try out some of your new licks will make you better by leaps and bounds
No fluff or filler… we're here for you (I already know how to play!)
Close ups of my left and right hand, plus I describe every single note I play along with what scale pattern it comes from. You cannot get lost and you'll know what I'm thinking for each and every note
The "Encyclopedia Of Blues Scales." Every single scale pattern and idea used in the course is outlined at the beginning of the manual. If there ANY scales or patterns you don't know, you will now.
Would You Like To Be Playing Like This?
Here are video demonstrations of all 5 solos in the course… Keep in mind that there are no passages faster than 1/8th notes. So forget what you think you know about having to play fast to sound cool!
Solo 1 – A classic shuffle in G in the style of BB King's "Let The Good Times Roll." This works equally well over such classics as "I'm Tore Down," "Sweet Home Chicago," and any of the thousands of blues standards in this feel.
Solo 2 – A slow blues in the key of A in the style of… well it's a slow blues you could probably name 20 in the next 20 seconds!
Solo 3 – This one is classic blues rock 'n' roll in the style of "The House Is Rockin'" by SRV or "Johnny B. Goode" by Chuck Berry.  Check out the sweet double stops at the top of this and the cool chord scale move at the beginning of the 2nd chorus…
Solo 4 – This straight blues/rock feel is along the lines of Albert King's "Born Under A Bad Sign" or something like Jeff Healey might play in "Confidence Man." There are many other examples by artists like Coco Montoya, Walter Trout, Gary Moore, and many more. This one is actually probably the easiest from a technique standpoint… but it really packs a punch with the bends and short phrases (very Albert King style.)
Solo 5 – Somewhere in between the slow blues and the shuffle lies tunes like "Look At Little Sister" by SRV and that's where this example hits. You could use this solo over songs like "Pride & Joy" or "Sweet Home Chicago" just as easily. In fact, if you slow it down it would work great over a simple "blues in E…"

90 Day Iron-Clad Guarantee
As with all of my courses, 5 Easy Blues Solos is guaranteed for 90 days. If you don't absolutely love these solos I insist that you ask me for a refund! But I know you are going to love them as much as I enjoyed putting them together for you.
Here's What You're Getting...
5 Easy Blues Solos is an instant download, where you'll get all the video lessons (with complete breakdowns of very lick of every solo,) the complete manual with every note written out, and all the audio files with play-along and jam tracks included...
Or, if you prefer to have the DVDs and the printed manual, you can select that option, and you'll still get the instant access digital version so you can get started right away without having to wait for anything to arrive.
To get your copy of 5 Easy Blues Solos just click the yellow "Add To Cart" button below with your preferred delivery method. Within moments of your order being complete you will receive access instructions to the Member Portal via email. So you can be playing the blues in just a few minutes from right now!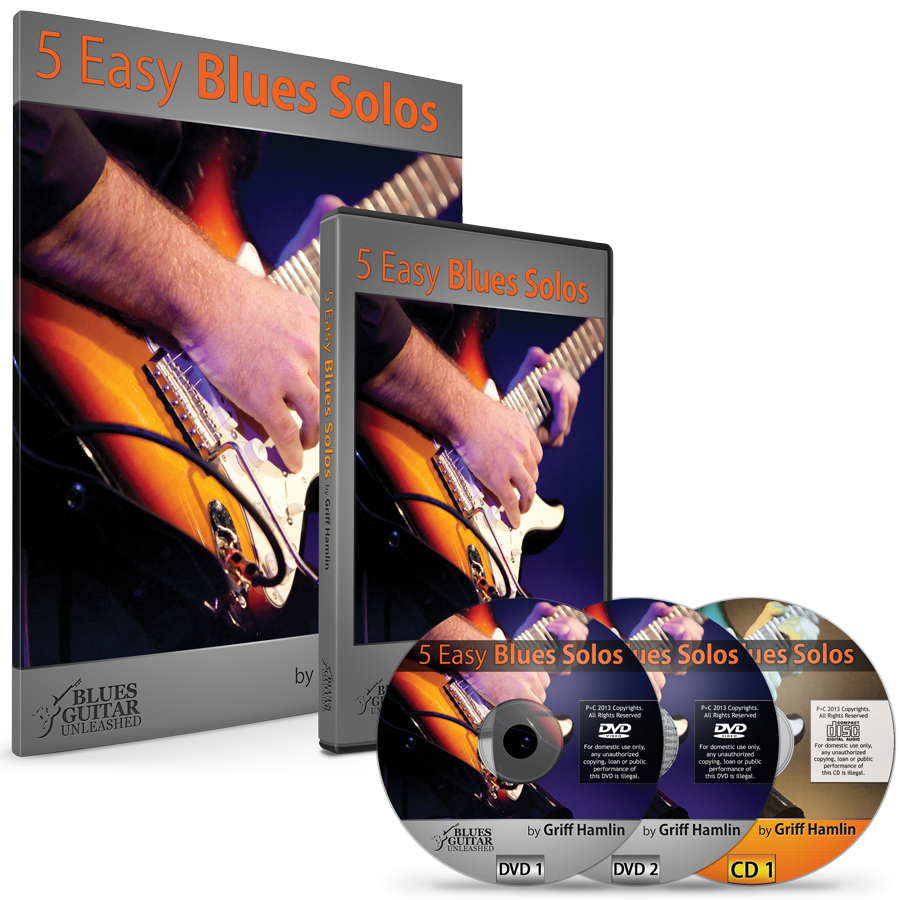 This is a one time payment, NOT a subscription. 3 Payment option may be available at checkout.
There's nothing like the feeling of stepping on stage at a blues jam and killing your solo. But let's face it, when the nerves strike you (and they will) the only thing that will come out of your guitar are the things you can play with confidence.
If you struggle with licks and tricks that are too hard, it's like shooting yourself in the foot right before the race.
Get these 5 solos, learn them, and make them your own. There's no better time than right now.