5 MORE Easy Blues Solos – More Great Solos... Less Time Struggling...
5 MORE Easy Blues Solos builds upon the concept of the original 5 Easy Blues Solos with even more of the best licks, tricks, and phrases of legendary blues guitarists without having to spend years in the woodshed to build up the chops.
5 MORE Easy Blues Solos contains 5 plug-and-play blues solos in common styles and keys of blues jams around the world and in your town. And the technique level has been kept as easy as possible so any intermediate blues player can be jamming along and sounding great almost immediately.
5 MORE Blues Solos You Can Learn Today And Use Tonight…
I have a confession to make… when I made the original 5 Easy Blues Solos course I had no idea what I had stumbled upon…
Within a week of that course being released I was receiving emails and messages on the Blues Guitar Unleashed forum thanking me and telling me that this was exactly what they had been waiting for.
And while I never would have guessed it when I was making the course… once I read the emails and messages and had some conversations with my students it all became very clear to me…
Because I often say that learning to solo is a similar process to a baby learning to talk… but I didn't realize just how far that analogy goes until my 8 year old came home from school one day with a poem to memorize for homework.
That's when it hit me…
Not only do you have to learn the sounds (scales) and phrases (licks) but you have to learn how they are put together into something classic and timeless (like the Gettysburg Address or any number of famous poems or speeches.)
So having those 5 classic, "textbook," solo examples to work with – to see exactly how the major and minor sounds are put together – to see how 90% of the time those classic licks come from dead simple patterns used just right – to see how all of the things you learn in other soloing courses actually work…
Well… to put it simply it just ties it all together into a nice little 24 bar package of pure blues goodness.
And now there are 5 MORE Easy Blues Solos for you to add to your own personal arsenal of solos you can pull out on the spot whenever you need them.
Here's What You'll Get With 5 MORE Easy Blues Solos…
5 "Textbook" blues solos in the styles of BB King, Stevie Ray Vaughan, Albert King, Freddie King, and more.
Full speed and slow speed versions of each solo so you can practice slowly until you get it down… then go full speed when it's time to let it rip.
Full length jam tracks to use for your own solos. As you get the 5 solos down you'll see where you can use them over other keys, feels, and tempos. Using the jam tracks to try out some of your new licks will make you better by leaps and bounds
No fluff or filler… we're here for you (I already know how to play!)
Close ups of my left and right hand, plus I describe every single note I play along with what scale pattern it comes from. You cannot get lost and you'll know what I'm thinking for each and every note
The "Encyclopedia Of Blues Scales." Every single scale pattern and idea used in the course is outlined at the beginning of the manual. If there ANY scales or patterns you don't know, you will now.
Would You Like To Be Playing Like This?
Here are video demonstrations of all 5 solos in the course… Keep in mind that there are no passages faster than 1/8th notes. So forget what you think you know about having to play fast to sound cool!
Solo 1 – An Easy Feeling Blues In F. This reminds me almost more of a Motown but it also comes up in a lot of blues tunes (and many blues tunes can be played this way even if they don't start that way 🙂
Solo 2 – Often called a Blues Mambo this feel is one of my personal favorites and is similar to famous tunes like "Crosscut Saw" or "Messin' With The Kid."
Solo 3 – The classic straight ahead blues feel similar to more modern classics like "Keep Your Hands To Yourself" and Clapton playing "Crossroads" when he does it a little slow (or the Free version as well.)
Solo 4 – Instead of the standard 12 bar slow blues, this is an 8 bar chord progression (that I'll walk you through in the video as well.) It's similar in style to Freddie King's "Ain't Nobody's Business" or Joe Bonamassa's "Asking Around For You." All the soul you could ever want to hear out of a solo is right here in this one so turn up your speakers before you take a listen...
Solo 5 – Similar to tunes like "Walkin' By Myself" or "Statesboro Blues" this shuffle in E has what is commonly called a 'Long I' at the top with hits to give you some practice with this particular blues staple. If I had a nickel for every tune that does this in the middle or at the top... well you get the idea.

90 Day Iron-Clad Guarantee
As with all of my courses, 5 MORE Easy Blues Solos is guaranteed for 90 days. If you don't absolutely love these solos I insist that you ask me for a refund! But I know you are going to love them as much as I enjoyed putting them together for you.
5 MORE Easy Blues Solos Comes In 2 Flavors...
5 MORE Easy Blues Solo comes in 2 exciting flavors… traditional DVD and Digital Access. Digital courses are immediately available upon completion of your order, and there is no tax or shipping no matter where you live.
A digital version of 5 MORE Easy Blues Solos is included with all DVD orders in case you want to take advantage of it... but please keep in mind that video does take a lot of bandwidth and a pretty fast internet connection.
To get your copy of 5 MORE Easy Blues Solos just click the yellow "Add To Cart" button below with your preferred delivery method. Within moments of your order being complete you will receive access instructions to the Member Portal via email. So you can be playing the blues in just a few minutes from right now!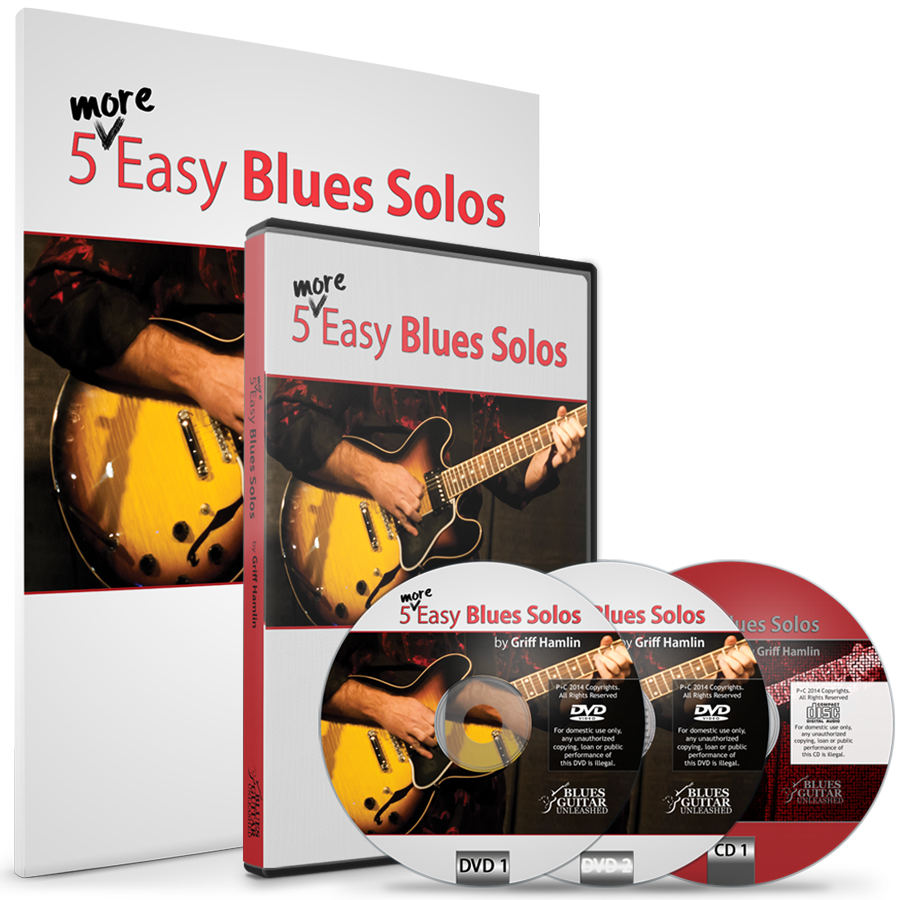 This is a one time payment, NOT a subscription. 3 Payment option may be available at checkout.
There's nothing like the feeling of stepping on stage at a blues jam and killing your solo. But let's face it, when the nerves strike you (and they will) the only thing that will come out of your guitar are the things you can play with confidence.
If you struggle with licks and tricks that are too hard, it's like shooting yourself in the foot right before the race.
Get these 5 solos, learn them, and make them your own. There's no better time than right now.